Part Four of Ahsoka, "Fallen Jedi" is one we are going to be talking about for years. While I do my best not to be a prisoner of the moment or give into hyperbole, "Fallen Jedi" may very well be the Star Wars live-action episode I have been hoping for since Return of The Jedi. It's that good! Let's take a closer look at what made this episode so special.
Note: The following contains major spoilers for Part Four of Ahsoka. Be sure to watch "Fallen Jedi" before you proceed.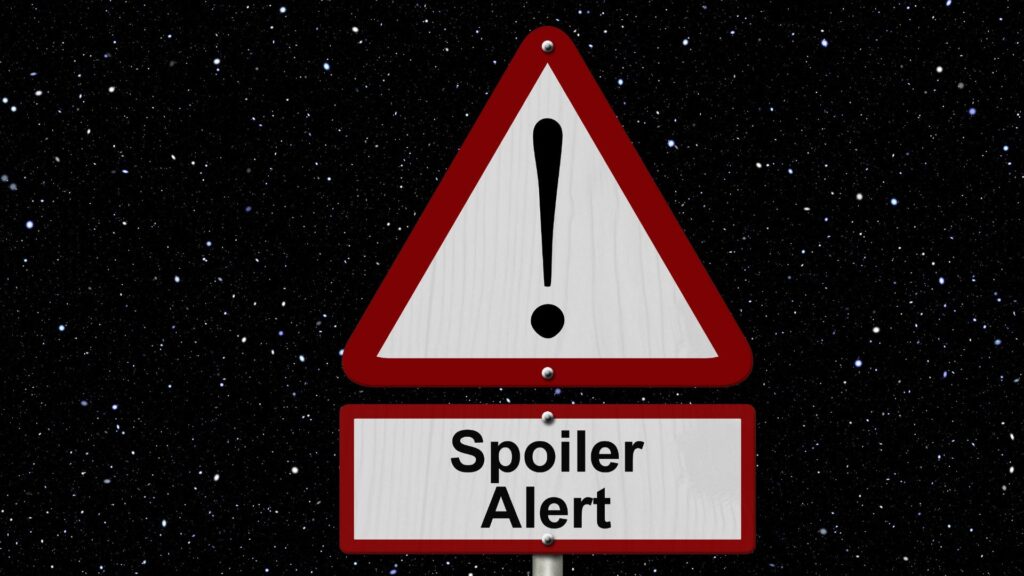 We have reached the halfway point of Ahsoka and there is a definitive tone that we are in some potentially hazardous territory. Ahsoka and Sabine have crashlanded on a planet that is coated in crisp autumn reds, complete with beautiful leaves that appear ready to fall to the surface of Seatos. It's a gorgeous metaphorical setting that belies the real danger that will befall our heroes.
Lightsaber Battles 2.0
Lightsaber battles are always a highlight of Star Wars and in "Fallen Jedi", we see Ahsoka using Force telekinesis in original ways during the first of several battle sequences. In a pivotal moment, Sabine holds up her hand and appears to call her lightsaber to her (promoting Shin to scornfully state, "You have no power!") only to use Mandalorian wrist rockets instead. It's a great reminder of how clever and adept Sabine is on the battlefield and her Mandalorian roots.
The most compelling thing to me is Ahsoka's switch from two lightsabers to one. She has spent years honing her skills with two blades (even getting special lessons from Master Yoda-see Force of Destiny on Disney+ for the episode or on the YouTube episode above). There may be an explanation in a future story, but from what I can tell, the single lightsaber gives Ahsoka a more aggressive stance and style, also suggesting that she is focussing on her passions instead of her mind and training. We explored this in this week's Coffee With Kenobi.  She clearly has a lot on her mind and it may be adversely affecting her significant abilities in battle.
Sabine's Conflict
Sabine promises Ahsoka early in the episode that she can be counted on not to let her feelings for Ezra get in the way of ensuring Grand Admiral Thrawn will return and become the heir to the Empire (bonus points to Dave Filloni for including the title of Timothy Zahn's amazing book!). Once Ahsoka is defeated by Baylan Skoll (a truly nuanced and masterful performance by the late Ray Stevenson), Sabine reluctantly helps him recover the map so that she can potentially find Ezra, even with the potential for another war across the galaxy. These are the highest stakes, and I relish the multi-layered characterization of Sabine here. Natasha Liu Bordizzo is fantastic yet again and continues to be compelling and masterful in her craft.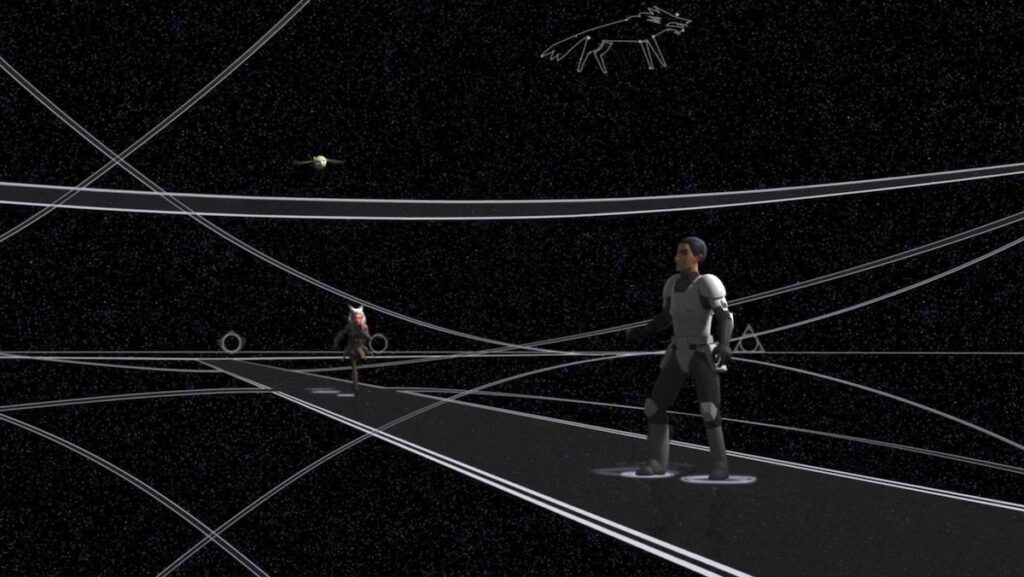 The Space Between Spaces In Live-Action
In the genre-bending Star Wars Rebels episode "A World Between Worlds", we learn that there is a world between worlds that connects the past, present, and future, and is somehow tied to the Force. There is so much we do not know, but it opens up limitless possibilities. I explored this for StarWars.com back in 2018 if you want to read more about this new way to connect to the Force. In "Fallen Jedi" at the end of the episode, there is a gorgeous transition that blends organically from water into a mystical starfield as Ahsoka awakens and finds herself back in a World Between Worlds.
This is significant for several reasons. First, this is where Ezra Bridger saves Ahsoka's life, pulling her out of a potentially fatal battle with Darth Vader on Malachor. It is important to remember this because this is where Ahsoka and Ezra form an unbreakable bond that is undoubtedly on Ahsoka's mind to this day. Perhaps the more prescient reason here is that we not only see this mysterious setting in live-action but that it also features the first live-action meeting between Anakin Skywalker and Ahsoka Tano. The best part: Hayden Christianson is back as Anakin Skywalker! While you may not initially hear it, be sure to turn on the captions and watch the scene again for a terrific callback to the animated Star Wars The Clone Wars.
I could not love this episode more. The question you might be asking yourself: Is it Tuesday yet?! What will Anakin and Ahsoka talk about? What is Sabine going to do on that starship full of nefarious individuals? And, will we see the returns of Ezra and Thrawn? I can not wait to find out!
Part Four: 5 out of 5
Don't forget that an hour before "Part Five" of Ahsoka drops on Disney+, you can join me on  CWK LIVE to chat, comment, and share your thoughts on last week's episode. Be sure to invite your family and friends to join us every Tuesday night at www.coffeewithkenobi.com/live.
Stay tuned to Coffee With Kenobi.com for the latest podcasts, videos, and news!
Join the CWK Alliance for access to over two hundred exclusive podcasts and videos
Book your next vacation with the official travel partner of Coffee With Kenobi, MEI/Mouse Fan Travel, and let them know Coffee With Kenobi sent you!
Follow Coffee With Kenobi on Apple Podcasts
Listen and subscribe to Coffee With Kenobi on Spotify
Join CWK LIVE on Facebook and YouTube Tuesday nights at 7:00 pm CST
Get your Coffee With Kenobi merchandise here
Connect with Dan Zehr and Coffee With Kenobi online:
Email: feedback@coffeewithkenobi.com
Facebook: www.facebook.com/coffeewithkenobi
CWK Cafe Facebook Group: Join the CWK Cafe Facebook Group
Instagram: @coffee_with_kenobi on Instagram 
YouTube: Coffee With Kenobi on YouTube
TikTok: @coffeewithkenobi
Dan Zehr
Email: danz@coffeewithkenobi.com
X: @MrZehr
Instagram: @danzehrcwk on Instagram
Book Dan Zehr for your conference, business, school, or organization
Schedule Dan Z to build or expand your online brand
Purchase Dan Zehr's Star Wars books
Powered by

Sidelines