Meet Coffee With Kenobi's Hall of Fame Members (In alphabetical order)
About Cory Clubb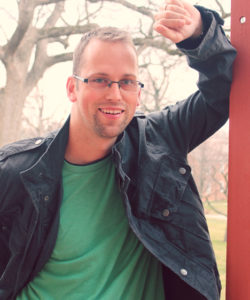 Cory Clubb (Co-Creator; Former Co-Host; Senior Designer)

Star Wars has been a passion in Cory's life ever since he first played with his cousin's Kenner action figures and watching the films on VHS recorded from TV. As a writer and graphic designer, he looks at the saga from a storytelling, imaginative standpoint. Through discussion with fellow fans, social media, and creators, he finds it holds the power to spark inspiration and perspective, something he can pass on to his own children for a whole new generation of Star Wars fans.
In his free time, Cory enjoys writing young adult novels and spending time with his family. He also likes movies, comics, and Star Wars.
Order Cory's Book, Uncanny Day, from Amazon!
Contact Cory at coryc@coffeewithkenobi.com and Twitter @coryclubb
_________________________________________________________________________
About Tom Gross
Tom has been the Coffee With Kenobi newsman on the podcast since May of 2017.  The Star Wars story caught his imagination since he first saw Star Wars with his grandmother in 1977.  He has a well-played with collection of Kenner action figures and ships that he pulls out and plays with his two daughters from time-to-time.  Tom is an avid road cyclist and advocate for cycling. He is often found either watching a Cubs game or reading Marvel comics including, of course, all the Star Wars titles as well as Spider-Man among others. On top of all that, Tom loves table-top gaming.  He is often the Dungeon Master for a Dungeons and Dragons game, but he loves playing Star Wars based games like X-Wing and Star Wars Destiny.   During the day, Tom is a school librarian and places a special focus on Star Wars in his practice as he annually plans a Star Wars Reads Day community event and a May the Fourth Be With You school event.  He has presented at numerous library conferences about infusing Star Wars and the connectivity across generations into library programming.
Being a member of the Coffee With Kenobi family is such an honor to him, and a way to bring 40 years of Star Wars fandom to life.  It also gives him a way to put an old college degree in radio broadcasting to use (thanks mom and dad!).
Contact Tom at tomg@coffeewithkenobi.com or catch what he is up to on Twitter @draftline or Instagram @Cyclinglibrarian.
_________________________________________________________________________
About Rob Wainfur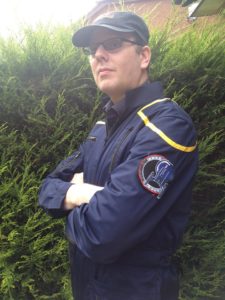 Rob Wainfur: Former Host of Your Espresso Shot with the Bearded Trio; Current Administrator for The Bearded Trio & Producer of Winding Down With Williams
Rob was lucky enough to watch Star Wars for the first time way back in '77. That viewing changed his life, craving Sci-fi, and cinema excellence ever since. He soon realized that Steven Spielberg, John Williams and of course George Lucas were the men to turn to. He felt a website celebrating their works was needed.
Working in the I.T. environment by day (he considers himself a Welsh Chief O'Brien) by night he turns to his love for all things geeky (and his wife, Rachel.) He considers it a real honour to be asked by Coffee With Kenobi to be a contributor to their consistently brilliant show.
_________________________________________________________________________
Melinda Wolf (Former Monthly Blogger)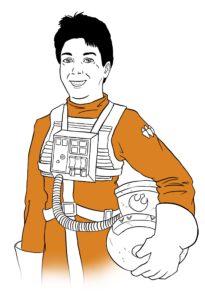 Melinda has been a Star Wars fan since the space fantasy burst on the scene in 1977. She can remember waiting in long lines to see the film over and over and over again. While Star Wars is one of her passions, it by no means is the only one. At a young age, Melinda knew she wanted to be a writer, which led her down the path to becoming a journalist. Now, she gets to mesh two of her passions right here!
Besides writing and Star Wars, she enjoys spending time with her husband and two grown daughters, reading, crafting, watching movies, music, and hanging out with friends and family (even those who don't have a penchant for Star Wars. 😉 ). Truth be told, her interests are … well, too many to mention. These are some of her favorites.
Powered by

Sidelines