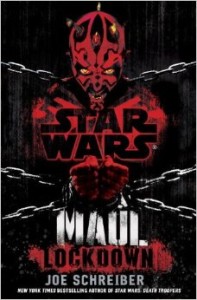 Review of Star Wars: Maul: Lockdown
This review contains some minor Spoilers
Maul: Lockdown by Joe Schreiber surprised me, and it's difficult to say how.  I suppose I was not sure what to expect.  I knew there would be a lot of action, and I assumed it would be violent, but I had no idea that the novel would start to explore what makes Darth Maul tick.
To be honest, I have always thought Darth Maul was very cool; in the pantheon of "mystery villains" (Boba Fett, Aurra Sing, etc.).  I always suspected there was more to Maul than what we saw in Episode I, and I understand the fascination with him, much more so than in other ancillary villains.  The Clone Wars started to give us more of a window of what makes Darth Maul who he is, and Lockdown veers in that direction as well (albeit earlier in the timeline).
Lockdown takes place inside Cog Hive Seven, a prison "teeming with the galaxy's most savage criminals".  Much like Maul, the prison is constantly evolving and shifting, to bring about certain bouts and configurations in the penitentiary.  Darth Sidious has sent Maul to infiltrate the prison, and find Iram Radique, an arms dealer with a secret identity that has become borderline folklore among the insidious characters of the galaxy.  Maul has to play the role of detective in order to find this mystery man, and carnage ensues, as Maul edges closer to his goal.
The challenge for Darth Maul is that he is forbidden by Darth Sidious to use the Force, which is a challenge when your life is constantly at risk.  Ever the lethal weapon, Maul is up to the task, although it is not an easy one for him.  This is where Lockdown is so captivating; while Maul is journeying through the prison system, and systematically (and brutally) exterminating the opposition, he also goes through some hints of man verses self, as he fights some self-doubt.
The doubt is subtle, but it's there, and opens the door to some real self-examination of character not  seen previously in the E.U.  As mentioned previously, the Clone Wars began the examination, and this gives similar hints as well.  I won't spoil anything major here, but I was really surprised by the last few chapters, and it actually lines up beautifully for a sequel, which I, for one, would love to read.  Most likely, there will be some minor controversy here, but it certainly adds some complexity to Darth Maul.
That isn't to say that Lockdown is a deeply driven character study.  It is astutely alluded to, but is certainly not the primary focus.  The word for Lockdown is blood, lots and lots of blood.  Maul kicks a lot of butt in a definitive way that is not for the squeamish or weak at heart.  It rivals Game of Thrones for carnage and violence, and you may find yourself thinking of finishing moves in the Mortal Kombat video game series; there is a bit with a tooth in the first chapter that firmly sets the tone.
This makes sense, as the second half of the novel becomes much like a non-linear video game.  The settings, conflicts, and adventures would lend themselves beautifully to a platform adventure, as Maul edges closer to completing his mission.  He fights a number of guards, inmates, a rogue Jedi, and a giant, White Worm that is as repulsive and creepy, as it is horrifying.  It is clear that Joe Schreiber has written some horror novels, as we leap into the grotesque and macabre on just about every page towards the end.  The video game comparison isn't a pejorative either, as I think it works well here, and most likely, fans will be clamoring for the crossover.
The side characters are fairly interesting as well.  Warden Sadiki Blirr is featured as one of the main antagonists, and we meet a father/son tandem Maul allies himself with, in an interesting "partnership" that is captivating.  The way he deals with their fates is intriguing as well, and adds more to the mystery of his character.   I am curious what others will think of a female as a big bad, but I don't think there is any sexism here.  Sadiki is powerful, ambitious, duplicitous, and dangerous, which adds quite a bit of spice.  Her fate could certainly be read into, but I'll save that for a future episode.  So often, I find side characters in the EU distracting or droll, but that was not present here.  I also really like that each chapter is very short, which makes it a quicker read.  I was really impressed with the pacing of the novel.
A quick note: the novel is advertised as a sort of sequel to Darth Plagueis, but I found that to be a bit of a generous description.  There are certainly direct references and story lines that overlap, but to call it a sequel is a tad liberal.  Still, those who have enjoyed Darth Plagueis will enjoy the references that occasionally appear.
Maul: Lockdown is an exciting, engaging read that is pulse-pounding, exciting, and almost overwhelmingly violent.  It will certainly please Darth Maul fans, and I think it will be a huge success.  The critical reading element is there, although subtle, but that just makes the examination all the more fun.
4 out of 5.
Purchase Maul: Lockdown on Amazon.com
Hear our interview with Joe Schreiber
Note: A big thank you to  Del Rey for providing an advance copy to review.
Powered by

Sidelines