Great news, Ahsoka fans! Volume One of Disney+'s Ahsoka Soundtrack is now available digitally! Press release below:
LOS ANGELES, CA (September 15, 2023) – Walt Disney Records releases Volume 1 of the Original Series Soundtrack for the hit Disney+ series Ahsoka. Available everywhere now is the Original Series Soundtrack: Volume 1 from composer KEVIN KINER, featuring music from episodes 1-4 of the series, which follows former Jedi Knight Ahsoka Tano as she investigates an emerging threat to a vulnerable galaxy. With music by longtime Star Wars collaborator Kevin Kiner (Star Wars: The Clone Wars, Star Wars Rebels, Star Wars: The Bad Batch) , who originated Ahsoka's theme and is returning to infuse his unmistakable style into the character's live-action incarnation. Kiner combines classical blockbuster music from the 70s and 80s with traditional Japanese basses and cellos to give Ahsoka the feeling of a wandering ronin. The Original Series Soundtrack: Volume 1 is available today Friday, August 15 and the series is streaming now on Disney+. 
KEVIN KINER notes, "I can't believe that 17 years after I wrote Ahsoka's theme for The Clone Wars that I'm still getting to progress and expand it. Sean and Deana Kiner worked with me on a lot of this score, and I think their fresh take —especially with regard to the ronin aspects of the score—helps move our sound forward in the Star Wars universe. This is something we've poured a lot of love into and are so proud of what we've created for these characters and this show."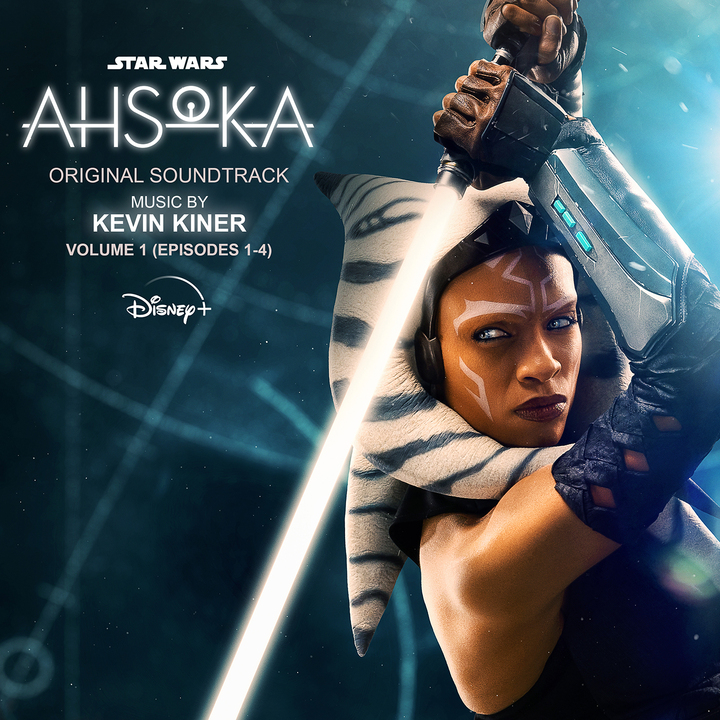 AHSOKA (ORIGINAL SERIES SOUNDTRACK: VOLUME 1) BY KEVIN KINER
TRACKLISTING
10. Should Have Been a Good Jedi
26. Enemies Are Multiplying 
27. More Than Just Your Eyes 
28. Briefing the Senators 
31. I Shall Deal With Them 
35. Not the Time for a Lesson
38. Huyang Cuts the Power 
46. Igyah Kah (Demo Version)
Ahsoka represents the next chapter in the saga of the beloved former Jedi Padawan, Ahsoka Tano (portrayed by Rosario Dawson), following the resounding success of Star Wars: The Clone Wars, Star Wars: Rebels, and The Mandalorian. Set within the expansive Star Wars universe, the series immerses viewers in Ahsoka's thrilling adventures as she embarks on a quest to apprehend the enigmatic and malevolent Grand Admiral Thrawn. With a harmonious blend of both fresh faces and familiar characters making their return, this series promises an unforgettable narrative that will continue to resonate in the hearts of fans.
Award-winning composer Kevin Kiner, stands as an embodiment of versatility and a luminary in Hollywood's realm of music. His illustrious career spans over a decade, during which he forged an indelible creative partnership with the visionaries George Lucas and Dave Filoni. This collaboration bore witness to Kevin's extraordinary talent scoring all seven seasons of the iconic Star Wars: The Clone Wars series, a monumental achievement that culminated in his receiving the prestigious 2021 Annie Award for "Best Music – TV/Media," particularly for his emotionally charged work in the series' climactic finale episode, "Victory and Death." Furthermore, his exceptional artistry earned him a coveted Primetime Emmy nomination.
Beyond the galaxy of Star Wars, Kevin's credits form a tapestry of diverse and captivating compositions, encompassing HBO Max's riveting Peacemaker, the enthralling Narcos: Mexico on Netflix, the thrilling Titans and Doom Patrol on HBO Max, Showtime's gritty City on a Hill, the critically acclaimed Dark Winds and Hell on Wheels on AMC, the beloved CSI: Miami on CBS, and the enchanting Jane the Virgin on CW.
Powered by

Sidelines