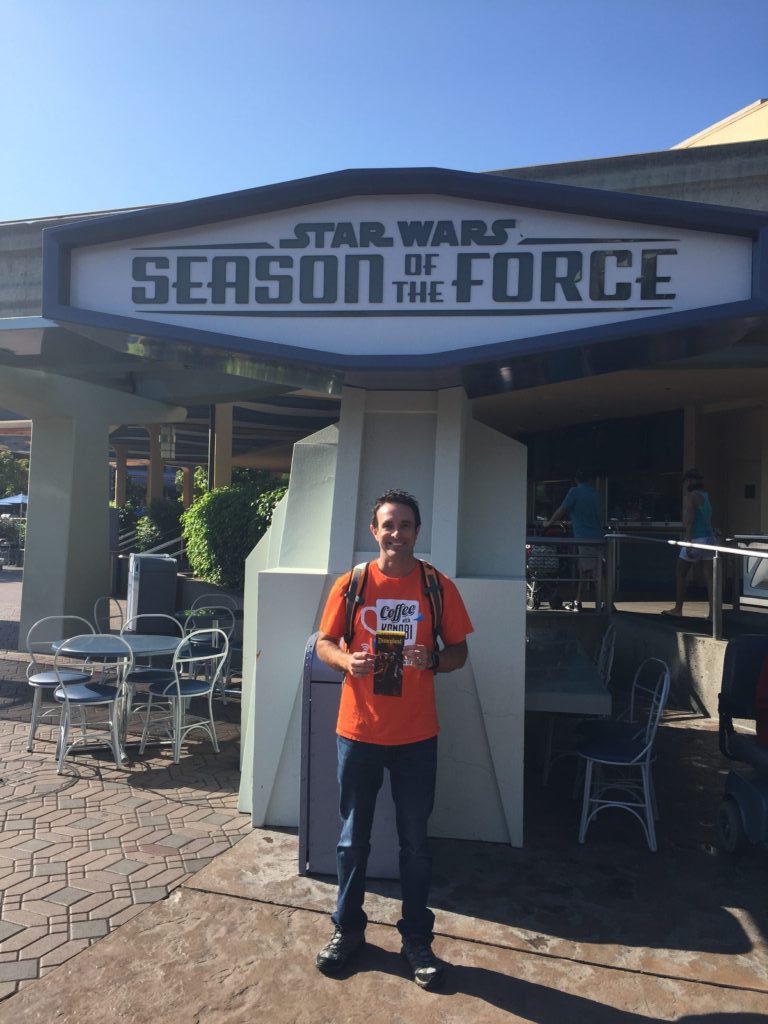 When I first discovered that Disney was expanding its Star Wars presence in their theme parks, I was beyond ebullient. Like many of us, I have many fond memories of the Disney theme parks, and when you add Star Wars to the mix, you've got entertainment gold. Star Wars Land is at least a few years away (absolutely nothing has been confirmed tim-wise at the time of this post), but the appetite for anything Star Wars is at an all time high.
To whet our collective appetites until Star Wars Land is finished, the Launch Bay has been created to satiate us , and certainly does so in grand fashion.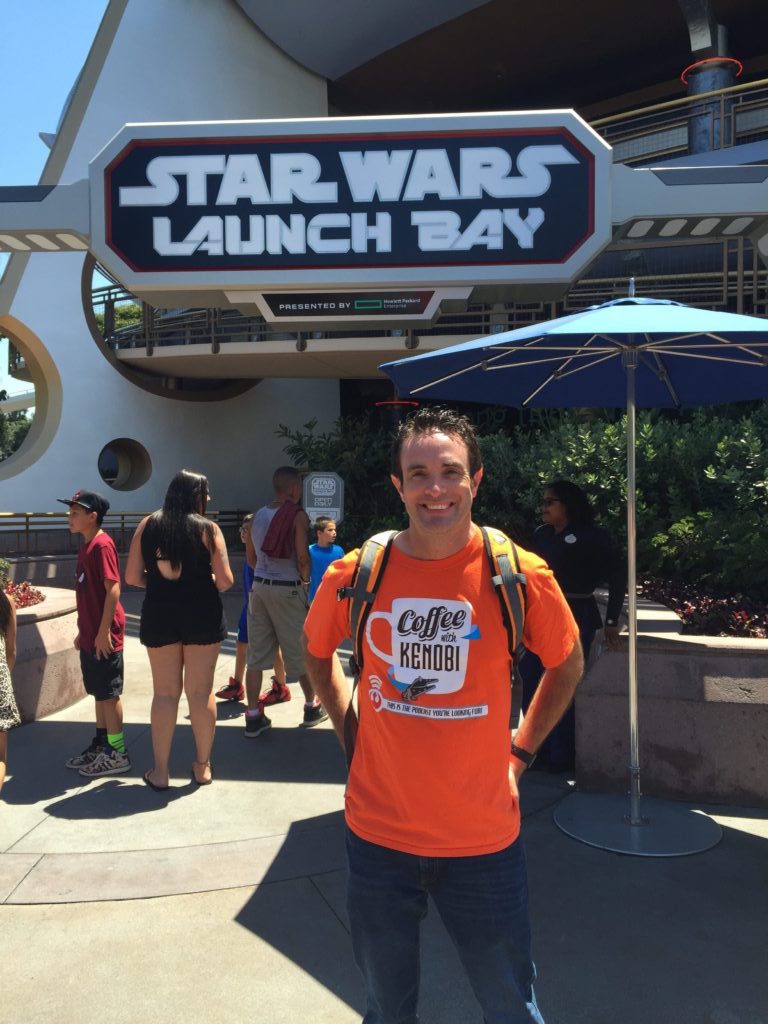 The Launch Bay opened in November of 2015 at Disneyland, so it's not exactly new, but it was new to me, and I could not have been more pleased with what I found. Tomorrowland has been revamped to fully incorporate Star Wars like never before.
Wrap your head around this for a moment: an entire area of a Disney theme park devoted to Star Wars; a brand new way to experience Star Wars with your family; an opportunity to get your picture with Kylo Ren and/or Chewbacca; an entire gift shop devoted to high-end Star Wars collectibles & another gift shop full of affordable tees, hats, toys, etc.; and the classic Space Mountain attraction with a Star Wars overlay.
When you first walk into Tomorrowland, Star Wars is ubiquitous, and it's amazing. John Williams' music reverberates throughout, and images from the films are everywhere. Original banners line up and down the main strip; one side with light side characters, and the other side with the dark side. They are just silhouettes, but are fun to try and deduce who is on each one. I even picked out some Star Wars Rebels characters too, which is pretty cool. Disney is incorporating everything; it's noticeable, as well as appreciated.
Since the Launch Bay has been in place for almost a year at Disneyland (Disney's Hollywood Studios opened in December 2015; Shanghai Disneyland opened in June 2016), I'll just focus on some of the things that stood out.
Path of the Jedi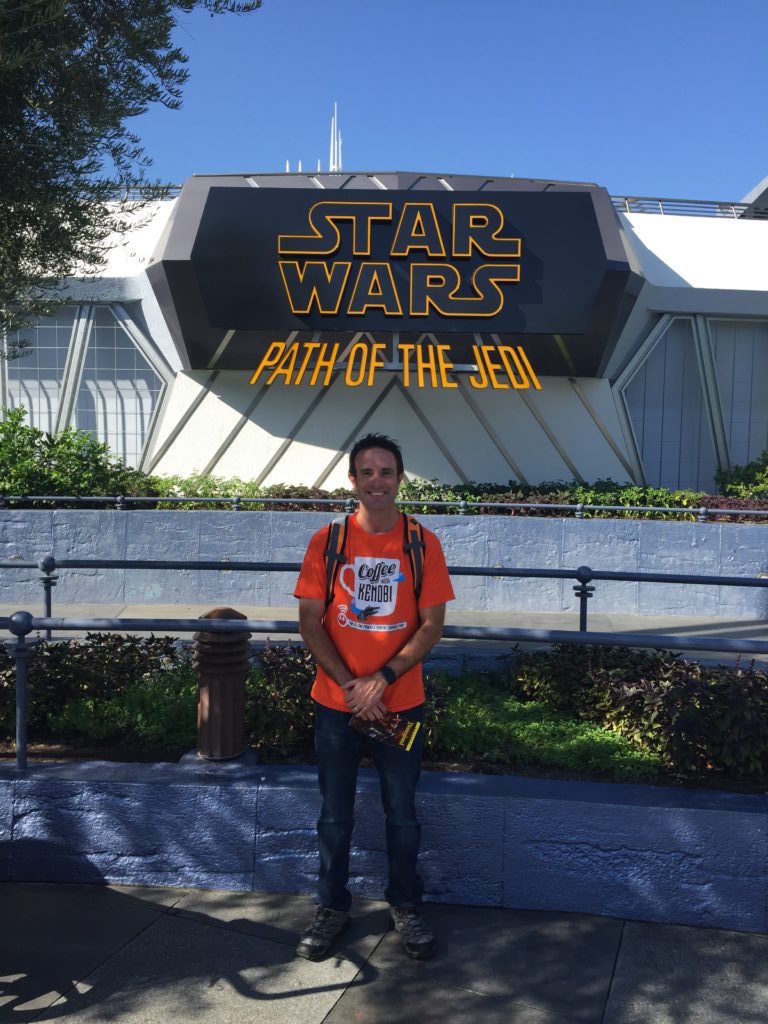 To the right of Hyperspace mountain (more on that later) is a state of the art movie theater that plays the film "Path of the Jedi". It's a (roughly) eleven minute original compilation of all seven Star Wars films, but it's so much more than a clip show. It's an organic greatest hits that isn't focussed on plot points as much as it is character and splendor. It is so compelling and well done that I got choked up, and that does not happen to me very often. Adding to the ambience is the theater itself, which features bursts of light when there are explosions on screen, as well as an all-encompassing sound system. I'd go to Tomorrowland just to see this film.
Character Meet and Greet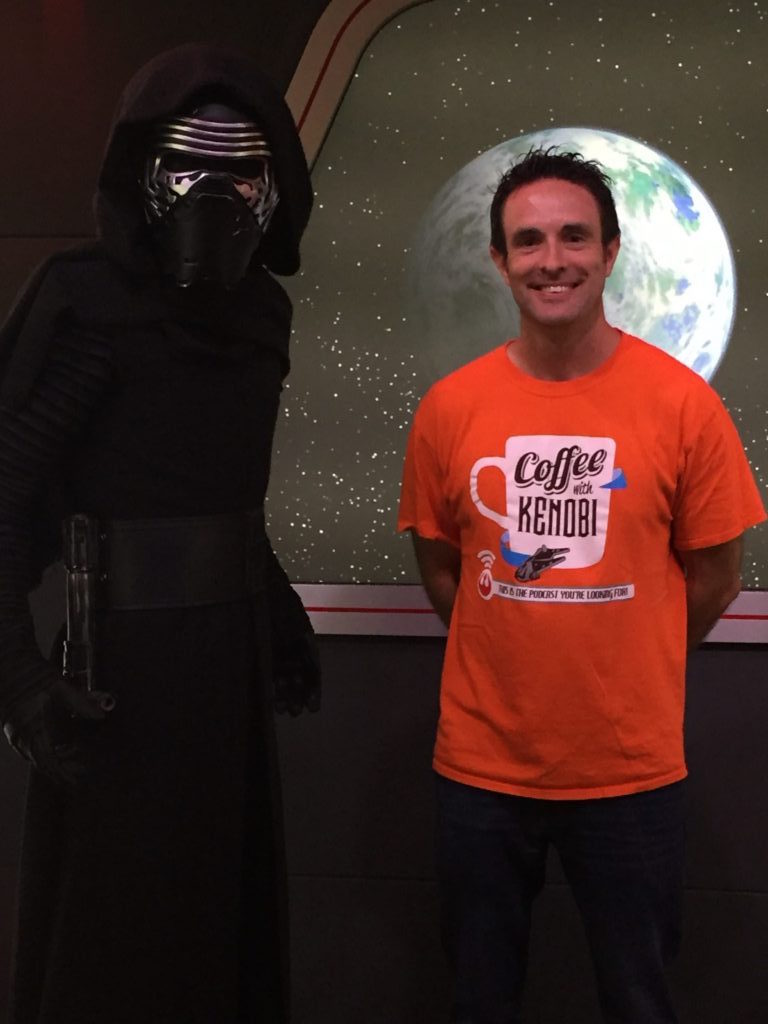 One of the highlights of any Disney parks experience is the character meet and greets. The Launch Bay continues this theme park tradition, but definitely kicks it up a notch. You can select either an experience with Kylo Ren or Chewbacca (again, the dark versus light side motif); you can do both if you choose, provided you have the time in your schedule. I chose Kylo, mostly because I wanted to see his costume.
It's fair to say I was not prepared for what happened next. I had a pleasant conversation with two of the Cast Members working the meet and greet, and then was told I was next. I turned sharply left, and was in a 2 1/2 to 3 foot dark corridor. It was dark, with some red stripes present against the grey walls, and created a somewhat virtual claustrophobic sensation.
I thought I'd stroll in, take a pic with Kylo Ren, and be on my way. Nope. A Cast Member came from around the corner and told me to stop at the red line. She then told me he would come for me. Ominous, right? Um … that would be an understatement!
The next few moments were a surreal blur. A tall, fearsome Kylo Ren greeted me, and proceeded to pace back and forth in front of me, all the while asking me about my allegiance, and why I needed to join the Dark Side. Having the word Kenobi on my shirt was probably not the way to go, as it felt like the actor portraying Kylo Ren used it to fuel his "rage". The voice was that of Adam Driver digitized (sounded exactly like The Force Awakens), and is clearly pre recorded, but believe me, it felt authentic, and customized to the experience. I would not recommend this experience for small children (and I spent the entire time wondering if I should laugh and enjoy it, or run screaming from the room), but it is an incredibly unique  encounter.
Merchandise!
One of the things I was most looking forward to was the merchandise; it certainly did not disappoint. Most of it is high end (life sized Boba Fett Kenner action figure; ANOVOS First Order stormtrooper; replica ships, helmets, etc.), but fun to look at and experience. Along with the wonderful props in the Launch Bay (not available for purchase), it's a feast for the eyes. I walked away with a customized D-tech Millennium Falcon phone case (with my name emblazoned in aurebesh across the bottom), as well as the grey Launch Bay tee (the only thing I found with the Launch Bay logo).
The Little Things
It wouldn't be Disney without the attention to detail that Imagineering is famous for. They have done a remarkable job refurbishing the existing architecture to accommodate the demand for more Star Wars.First Order. There are stormtroopers marching around, you can get Star Wars themed food at the Galactic Grill, and don't forget to throw your trash away in a Launch Bay garbage can (Steve Sansweet needs one of these at Rancho Obi-Wan).  The experience at Disneyland, as well as everything in Tomorrowland, is as close to Star Wars paradise as we have seen at the Disney parks. If this is what Disney can put together in a few months, just imagine what they will be able to do once Star Wars land is complete.
As an aside, I did ride Hyperspace Mountain, only because of the Star Wars "special modifications". It was fun, but to say this is a Star Wars attraction is a bit generous. There is a cacophony of the familiar music throughout, and some subtle effects featuring a TIE and some x-wings, but don't expect a full on Star Wars experience. It's a blast (pun intended) but it's still Space Mountain, albeit it with some new decorations.
Be sure to check out the video below, with a few quick bits of commentary, as well as some additional footage and images (the audio for the first segment is a bit tricky, but it gets better) of the Launch Bay at Disneyland. Be sure to let us know about your experiences at the Star Wars Launch Bay, and be on the lookout for more reviews from your Coffee With Kenobi family in the near future!
[embedyt] http://www.youtube.com/watch?v=woM1XjWWVSM[/embedyt]
Note: A big thank you to Disneyland for their assistance in making this review and experience possible!
Powered by

Sidelines