The Star Wars Rebels season finale is always an event; threads are tied up, mysteries are solved, and tears are shed. Season Three is no different. Personally, I spent most of the episode full of angst and nervousness. The stakes are high, and with Grand Admiral Thrawn in hot pursuit, even the Duke boys would be in trouble (#80sReference). As with all Talking Points columns, there will be spoilers, so don't click on the link below until you have seen "Zero Hour: Parts 1 and 2".
Grand Admiral Thrawn, or the Big Bad that just won't Quit
The opening sequence between Thrawn and Agent Kallus sets the stage that no one is safe. While Kallus is a truly fearsome opponent, he is easily taken down by Thrawn, who continues to prove himself as dangerous in combat as he is intelligent in military strategy. He is not a nice man, and, even when faced with the Bendu (more on that below), demonstrates a ruthlessness that is equal parts fascinating and disturbing. I must admit, I am surprised he did not go the way of Maul in this episode. Thrawn is going to be a serious problem for the Rebellion; I'm still torn on this incarnation of him, but am more than willing to see how it plays out.
Mortality
It's really difficult to follow up "Twin Suns"; it could have been the finale in its own right. There needs to be weight and gravitas to follow up such a powerful Star Wars Rebels experience. Enter "Zero Hour"; the feeling of mortality in these two episodes is palpable. By the third act, I was fairly convinced that one of the heroes of Star Wars Rebels was going to die. Fortunately, that did not transpire, despite the best efforts of the Empire.
"Zero Hour" creates some serious angst for the fab five (I'm not including Chopper in this since we know he is in Rogue One) that I did not expect. It's easy to take for granted that (since we know there will be a Season Four) the main cast will be around for a long time. There are no guarantees, as the last twenty minutes of "Zero Hour" demonstrate. Bravo to the cast and crew for creating authentic suspense.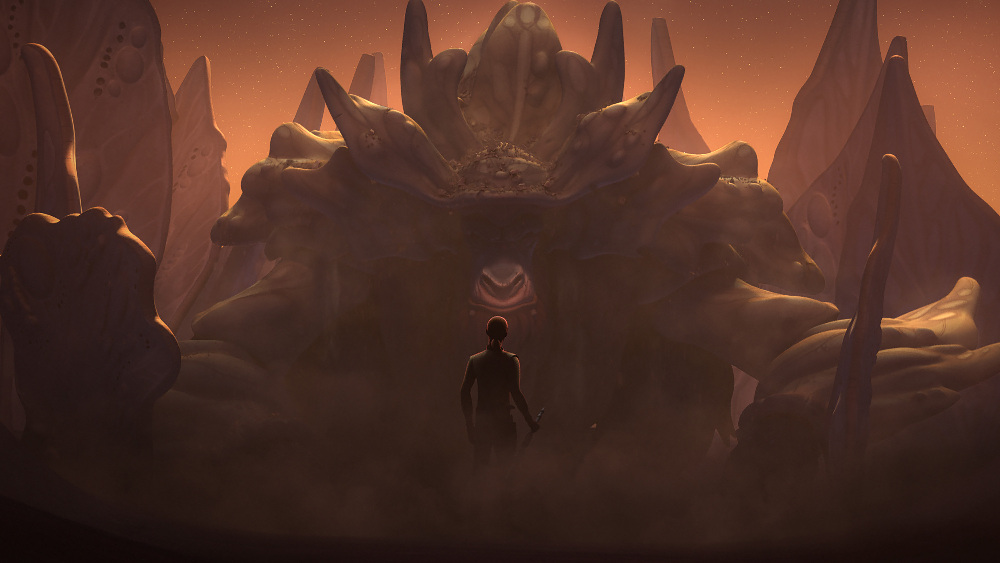 Kanan's Vulnerability
Kanan, in particular, really felt vulnerable to me; human, almost. In spite of his blindness, he has handled himself like a Jedi throughout Season Three, making it easy to forget he's human. His speeder trek through Atollon (accompanied by a fearsome barrage of Star Destroyer laser fire) however, is a not-so-subtle reminder of his mortality. Since we know that Luke Skywalker is the last of the Jedi at the end of Return of the Jedi, Kanan's fate is still uncertain. His emotional growth this season, especially in his mentorship of both Ezra and Sabine, has shown us a different side of him. In "Zero Hour", he has a powerful exchange with Ezra that clearly shows their mutual affection and admiration for one another, making his vulnerability in this episode personal, as well as physical.
Honorable Mentions:
Sabine! If parts 1 and 2 of "Zero Hour" were not shown back-to-back, Ezra's proclamation that he was going to look to Sabine and the Mandalorians for help would have trended all week. She's relegated to a side character here (and that's not a criticism; she is critical to the Rebellion's success), but her involvement is at the forefront of the burgeoning Rebel fleet. This victory would have felt a bit hollow, had it not been for the pathos Sabine provides. She needed to be here, for them, as well as for the audience.
Death Troopers … that's it. I loved seeing them here, Star Wars Rebels style. Between Thrawn and Krennic, this squad knows how to pick their malevolent dictators.
The Bendu: I'm still not sure what to make of this creation, or how he fits into the overall mythology, but he leaves a mark here. His confrontation with Grand Admiral Thrawn was disturbing, also further demonstrating the motif of vulnerability in the finale.
While it may not hold up to "Twilight of the Apprentice" or "Twin Suns", "Zero Hour Parts 1 and 2" still packs a punch and certainly whets the appetite for Season Four. I can't wait!
Powered by

Sidelines