Hi guys!  My name is Deanna and I am Coffee With Kenobi Co-host Dan Z's wife.  He has graciously offered to let me do a guest post to tell you about a collaboration between Star Wars and Cover Girl.  And let's be honest, I'm earning major brownie points from Dan for getting excited about something Star Wars!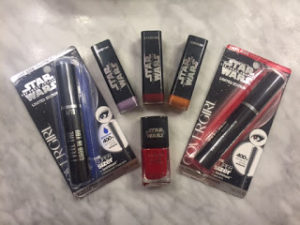 Cover Girl has teamed up with Star Wars to offer something everyone can get excited about; Star Wars collectible makeup.  Given that my husband is an avid fan and I am more of a novice when it comes to Star Wars culture, I love that Cover Girl has offered me a way to incorporate his love of Star Wars into something I enjoy as well.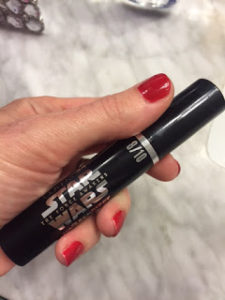 I have to say that I am picky when it comes to makeup and I was not expecting much from the product other than it being a fun way to trick my husband into thinking I was jumping on the Star Wars bandwagon 🙂  However, I was pleasantly surprised with the quality.  The nail color I tried was called "Revenge Red" and it is the perfect color for this time of year.  It also stayed on extremely well and what girl doesn't love a polish that doesn't chip easily?
As for lipsticks, I tried colors 20 (lavender), 30 (red), and 40 (gold).  The red (30) was by far my favorite.  I have a very hard time finding a red that works on me and this one fit the bill perfectly.  I have found that it is my go to with my fall outfits.  The other two lip colors were not my favorite, but I could see where they would definitely be great for someone wanting to dress the part when attending the movie.  My favorite items were the mascara.  Not only are the containers super sleek and fun, the product is amazing.  I loved the unique brush and the way it lengthened my lashes.  There are ten different mascaras and I tested numbers 4 and 8.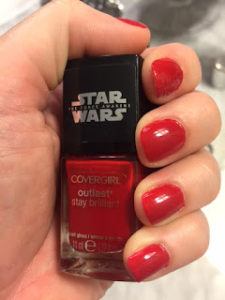 Whether you are buying the makeup to support your significant other like me, collecting it, or wearing it to the movie premier, you will not be disappointed.  There are many items other than those listed in this post and they can be found at any major retailer.  Tweet pics of you wearing the makeup to the movie with the hashtag #CWKandCoverGirl.  I can't wait to see your creative creations with these fun products!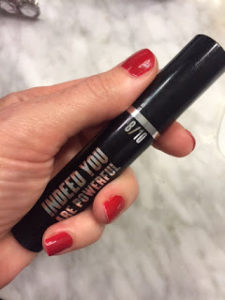 May the force be with you! (more brownie points!)
Purchase your Star Wars Makeup collection here!
Note: A special thanks to Cover Girl for the cosmetics to review.
Powered by

Sidelines