Incredible news from this year's San Diego Comic-Con: Hasbro revealed their biggest Vintage Collection starship. It's the Ghost, the massive vessel of the crew of Star Wars Rebels; soon to play a major role in the Disney+ series, Ahsoka
*Limit of 5 per customer.*
Star Wars fans, now's your chance to join the Ghost crew with this one-of-a-kind HasLab vehicle inspired by the highly anticipated Star Wars: Ashoka™ series streaming on Disney+! Become the newest member of the Ghost crew and help fund this ship for departure – destination: your collection!
Ahsoka Tano is on a mission to protect a vulnerable galaxy in the aftermath of the fall of the Empire. To do so, she's enlisting help from some old allies – ones that once knew her as "Fulcrum." Enter the well-loved starship that the Spectre crew once called home.
The Ghost is not just any ship. It's been highly requested by you, the fans, not just for its intricate design but for everything it represents: the beginnings of the Rebel Alliance, the power of resilience and found family, and maintaining hope against all odds.
There are endless storytelling opportunities with this ship, which weaves stories together from across the Star Wars galaxy, from Rogue One: A Star Wars Story™ to Ahsoka – and we want to give you the chance to explore them all. The interior of the ship lets you experience the Ghost like you've never seen it before. Imagine characters gathering around the table in the galley, bonding as only members of the wayfaring Ghost crew could. Or perhaps you'll find them in the cockpit, backseat piloting with their fearless leader.   
We're thrilled to bring you the Ghost as it appears in the upcoming Ahsoka series – and the chance to celebrate characters you know and love. This is the largest ship we've built since Jabba's Sail Barge! The Ghost measures over 28 inches by 34 inches and sits at over 13 inches tall, with the capacity for at least 15 figures and is decked out with all the essentials including:
Exclusive Star Wars Rebels™ carded General Hera Syndulla figure with 3 entertainment-inspired accessories including a meiloorun fruit, Kalikori totem and blaster. Figure's appearance is based on her appearance in Season 4 of Star Wars Rebels and features a cardback inspired by Sabine Wren's Spectre Crew mural from the series finale.
The Phantom II: the ship's shuttle that can be snapped in and out of place for short-range adventures. Features exclusive removable mini bust of Chopper that can be popped in and out behind the cockpit exterior.
Opening front ramp
Removable landing gear
Multiple removable panels for interior access and play
Nose turret with removable canopy and seating for 1
Signature 360-degree dorsal laser cannon turret
Docking bay for the Phantom II
Main cockpit with seating for 4
Crew quarters with bunk beds
The Captain's quarters with a single bed
Gallery and lounge with seating, game table, and dining table
In addition to this amazing base offering, we are also excited to share several incredible unlock tiers tied to the Ghost. After all, it just wouldn't be the same without some of the crew members you've come to love. With each funding goal we hit, you'll get another chance to recreate more and more iconic moments with characters from Star Wars Rebels: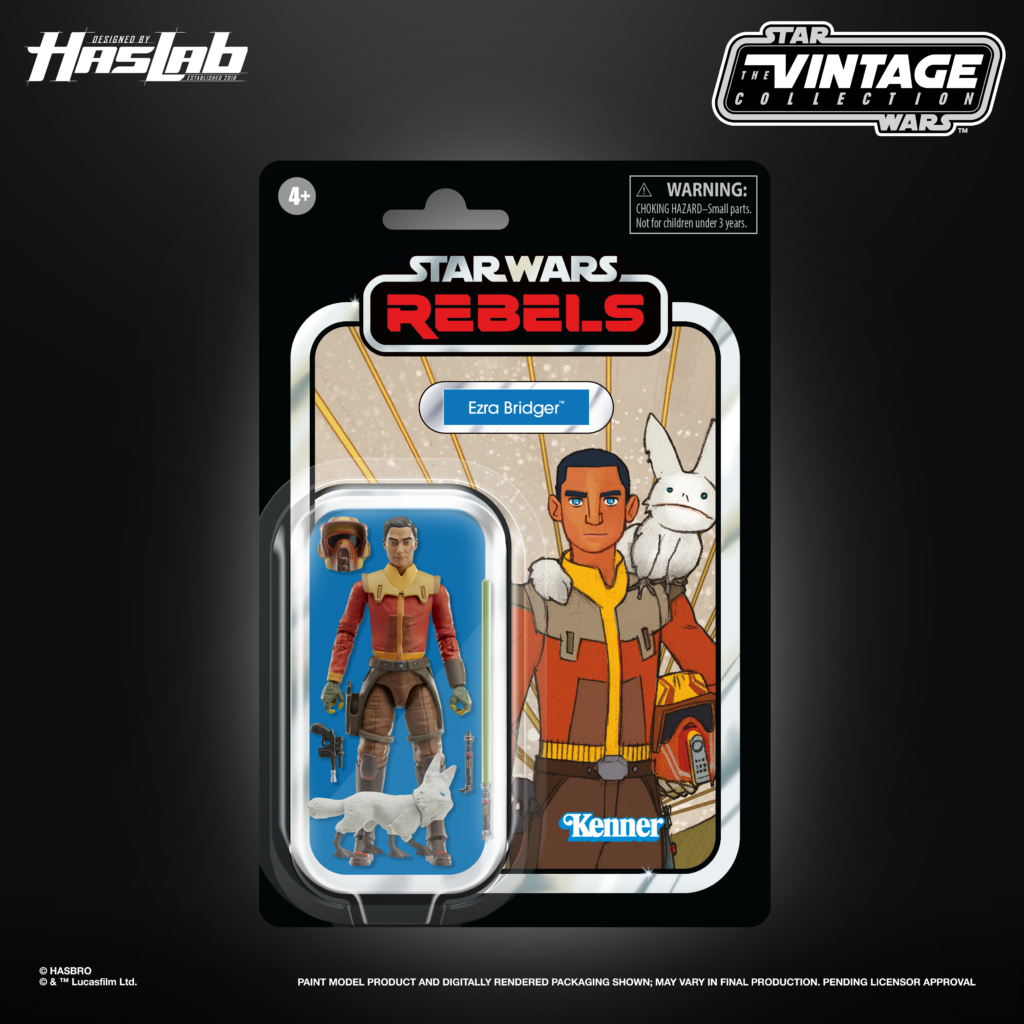 Tier #1 (Threshold: 11,000 Backers): EZRA BRIDGER Exclusive Star Wars Rebels Vintage Collection Carded Figure

Includes: Lightsaber, unlit Lightsaber hilt, blaster, flip-up Scout Trooper Helmet, and white Loth-cat accessories

Tier #2 (Threshold: 14,000 Backers): KANAN JARRUS Exclusive Star Wars Rebels Vintage Collection Carded Figure

Includes: Lightsaber, unlit Lightsaber hilt, blaster, face mask, and interchangeable portrait head accessories

Tier #3 (Threshold: 17,000 Backers): GARAZEB "ZEB" ORRELIOS Exclusive Star Wars Rebels Vintage Collection Carded Figure

Includes: Bo-Rifle (blaster form) and Bo-Rifle (staff form) accessories
Don't miss out! This crowdfunded project will run from July 21st 2023 5:45PM ET to September 6th 11:59PM ET. We need 8,000 backers to fund the base offering. If successful, the project will begin shipping Fall 2024.
Here's the link to join the crowdfunded project for The Ghost!
Powered by

Sidelines