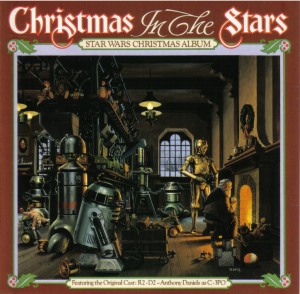 What do you get a Wookiee for Christmas when he already owns a comb? That thought-provoking question was first posed back in 1980 when the Star Wars Christmas album, "Christmas in the Stars," debuted. Most of us have probably heard at least some of the songs on the album – some of us might even have their very own copy (show of hands? me!) – but how many know the story behind this classic gem?
CBC Music decided to find out, and the result is a fascinating look at the origins of what is undoubtedly one of the oddest – but fun! – Christmas offerings out there.  Here is a brief introduction:
On the surface, Christmas in the Stars is a novelty record ripe for ridicule, for which it's been on the receiving end plenty over the years. But it also boasts an undeniable pedigree and is full of enough curious and notable moments that it's impossible to dismiss.

Christmas in the Stars marks John Bongiovi's first professional recording, four years before he became Jon Bon Jovi. Maury Yeston penned many of the original tunes and went on to become a Tony Award-winning Broadway composer. C-3PO sings throughout and George Lucas gave it the thumbs up. And, most unbelievably, "What Do You Get A Wookie For Christmas (When He Already Has a Comb)" is a real song.

As told by C-3PO himself, Anthony Daniels, Yeston and Bongiovi, getting Christmas in the Stars made was as weird and funny as the record itself.
To read more about this festive chapter in Star Wars history, please visit CBC Music.
Thank you to Andrea Warner of CBC Music.
Powered by

Sidelines