Have you ever been engaged in a conversation in which someone is trying to convince you of something? You are listening with an open mind, maybe even being slightly swayed … that is, until the individual doing the talking says the wrong thing. S/He has sealed her/his fate, and there is absolutely nothing s/he can do to turn the tide.
Years and years ago [some might call it the Dark Ages 😉 ], when I was in college, I was living in an off-campus dorm. About halfway through fall semester, one of the Resident Advisors was let go. I don't remember his name, but what I most definitely remember was the petition that a duo of fellow residents was circulating among the 200 or so students living in the building supporting [we'll call him] John — a well-liked RA — in the hope of getting him reinstated.
One afternoon, a knock, knock, knock came a tap-tap-tapping at my door, rousing me from a much-needed nap [all-nighters can be brutal 😉 ]. In a sleepy state, I opened the door to two familiar faces [although their names have long ago been forgotten]. Double-teaming me, they laid into their barrage of arguments as to why "John" should be reinstated. The duo extolled "John's" virtues as an RA. My query, as I came out of my sleep stupor, "Well, just why has 'John' been let go?" met with a rather vague response: "We don't know. We just don't like that he's been railroaded like this." Usually ready to champion injustice and the underdogs of the world, I listened intently to their arguments — which were driven, truly, by blind naivety — and the more they attempted to drive home the "railroading" argument — based not on any known facts but rather heartfelt sentiment — the more dubious I considered their entire effort. "But maybe 'John' deserves to be let go," I posed. "Maybe he did something that was so against the rules the management could not consider even a warning." You'd think I had just uttered some blasphemous statement by their outraged reaction. "Melinda," they pled, "please just sign the petition! We all have to stand together!" That was that. Those six little words. They came out of one of their mouths, and that's all it took for them to convince me to tell them matter-of-factly, "Sorry, I will not sign your petition." I closed the door on what must have been two dumb-founded faces, and went back to my nap. If I am going to put my name on something like a petition [which I have done a number of times], I better know for what the petition is fighting, know all the facts, and believe in the cause. I will not sign anything just "to stand together" without knowing for what exactly we're standing.
About now, you might be asking yourself: What does this have to do with Star Wars? Trust me. There is a connection. 🙂 One sunny February morning, when I was sitting in one of our local theaters still showing "The Force Awakens" [for my ninth viewing 🙂 ], I thought I detected just the slightest — almost imperceptible — flinch in Kylo Ren's countenance during his exchange with Han Solo. [SPOILER ALERT: Please, if you have not yet seen TFA — there still are individuals out there who have not had the opportunity! I know a few people who, believe it or not, fit into that category! — please STOP READING. I am about to get very specific about some key elements of the film, and I certainly do not want to ruin the story for anyone who has yet to see the newest installment in the Star Wars Saga.] Did I see what I thought I just saw? I pondered as I listened to the two converse on the catwalk. If I did see Kylo Ren flinch ever so slightly, that would have a profound effect on what was happening during the conversation between father and son — and how to interpret the scene.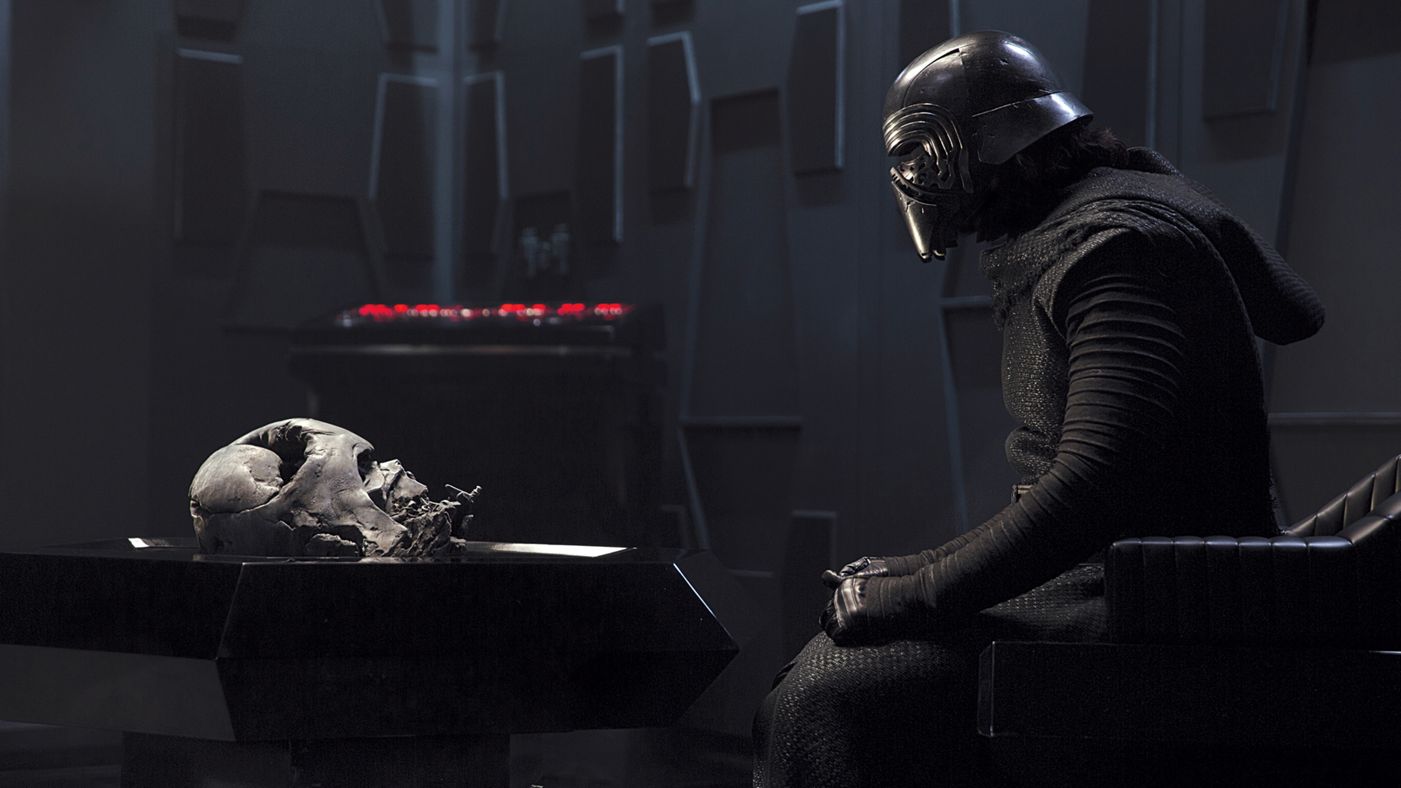 It is not news [to anyone who has seen the film] that Kylo Ren is torn between the Light Side and Dark Side of the Force. That simple fact comes to light in a number of scenes throughout the film. He yearns to follow in his grandfather's footsteps, but still … he is pulled to the Light. Rey senses it. Leia knows it. Supreme Leader Snoke fears it. Ben Solo may have donned the black, and pledged his life to the Dark Side. However, to give himself fully to it, he must eradicate that which is holding him back, keeping him skirting the fringes of the Light Side.
Kylo Ren's mother, Leia, knows he still has leanings toward the Light Side of the Force — shreds though they may be. Reunited on D'Qar, the planet on which the Resistance has set up its base of operations, Leia pleads with Han to bring their son back. It isn't only with a mother's never-ending love for her child that compels Leia to inform Han that their son still can be brought back to the Light Side of the Force. She is a Skywalker, after all, and can sense that simple fact. Han, however, accepted long ago that Ben was lost to them and to the Light Side. He says as much to his estranged wife. More than anything, the resignation is written all over Han's face. He knows Ben won't be turned back, but to make Leia happy, he is willing to give it a try if presented with the opportunity. When opportunity comes a knocking …
Han and his team are just about done with their efforts to destroy Starkiller Base when who should stroll into the area but Kylo Ren. Han watches with such sadness on his face as the dark knight — his son — walks out onto the catwalk. The boy he knew is gone, but what if — what if — Leia is right? What if Ben could come back to the Light Side? Maybe it's worth a try. Han steps out of his hiding place, and calls out to his son. The showdown between father and son is about to occur. Now, I don't know about you, but I couldn't help but think Kylo Ren/Ben was putting on a show of bravado for his father during the opening moments of their exchange. Kylo Ren is attempting to be intimidating — but this is his father standing before him. Han Solo is a pretty intimidating individual in his own right [even if he appears to be going into this face-off with a bit of trepidation]. Then, Han convinces Kylo Ren to take off his mask, and father and son have their first opportunity in years to look upon each other with their own eyes. Han can see that his son is vulnerable. There is a chance — a good chance — that he can fulfill his wife's wish.
Han, driving home an important message: "Snoke is using you for your power. When he gets what he wants, he'll crush you. You know it's true."
Kylo Ren/Ben, with resignation: "It's too late."
Han, with emotion: "No, it's not. Leave here with me. Come home. We miss you."
As Han uttered that line, the camera angle is situated over Han's shoulder, centered on Ben's face. As Han utters, "… We miss you," Ben flinches — so slightly that the movement is almost imperceptible. However, if you look closely enough, you'll see the movement. It's there. Han has said the wrong thing. He may have thought that would be the clincher to convince Ben to come home with him, to turn his back on Snoke, the Dark Side and the First Order, but nothing could be further from the truth. Han has been the well-meaning father over the years, but time and time again, he has let his son down. Kylo Ren said exactly that to Rey when he held her captive: "And Han Solo. You feel like he's the father you never had. He would've disappointed you." A lifetime of disappointments — when the father said one thing, but never came through with his promises — left only a bitter taste in the younger Solo's mouth — and in his heart. Sure, Han said he and Leia missed Ben, but to Ben, this would be one more disappointment. As far as Ben was concerned, the words rang hollow. The conversation between Han and Ben takes a decided twist at this point. Unbeknownst to Han, the mask of Kylo Ren has returned [although it still rests on the catwalk], and he misinterprets the meaning behind his son's words. The two are not on the same page:
Kylo Ren: "I'm being torn apart. I want to be free of this pain. I know what I have to do, but I don't know if I have the strength to do it. Will you help me?"
Han, with hope in his heart: "Yes. Anything."
This is the chance for which Han had been waiting! Ben is asking for his help, and it looks like all will go well when Ben unhooks his lightsaber from his belt to hand it to his father. However, Kylo Ren meant something altogether different. He never relinquishes the Dark Side weapon, and upon thrusting it through his unsuspecting father's torso, cements his tie to the Dark Side. There is nothing but coldness and contempt for Han in Kylo Ren's heart [if he has one] at this point.
I don't know why I didn't see that flinch the first eight times I saw "The Force Awakens". Maybe it was because I was more intent on listening to the words than being open to the meaning behind them. By the ninth viewing, I pretty much had the dialog committed to memory so I could be a bit more open to watching intently what was happening on screen, and opening my mind to interpretation. I don't know if Adam Driver was directed to move in such a way to infer Kylo Ren's change in demeanor, or if the hint of a flinch was intuitive, but that practically indiscernible movement spoke volumes. At least to me.
Did you see it? I'd be interested to hear what you have to say about this. I invite you to leave a comment below, or to drop me an email at melindaw@coffeewithkenobi.com. If you didn't notice the flinch, please look for it the next time you watch "The Force Awakens", and come back here to let me know your musings about it. I am interested to know what you think.
Until next time,
MTFBWY 🙂
This is the podcast you're looking for!
Powered by

Sidelines
Please follow and like us: